Fall 2018
SYSTEM-WIDE PBS
What is system-wide PBS?
Download a PDF of this edition of the Support Report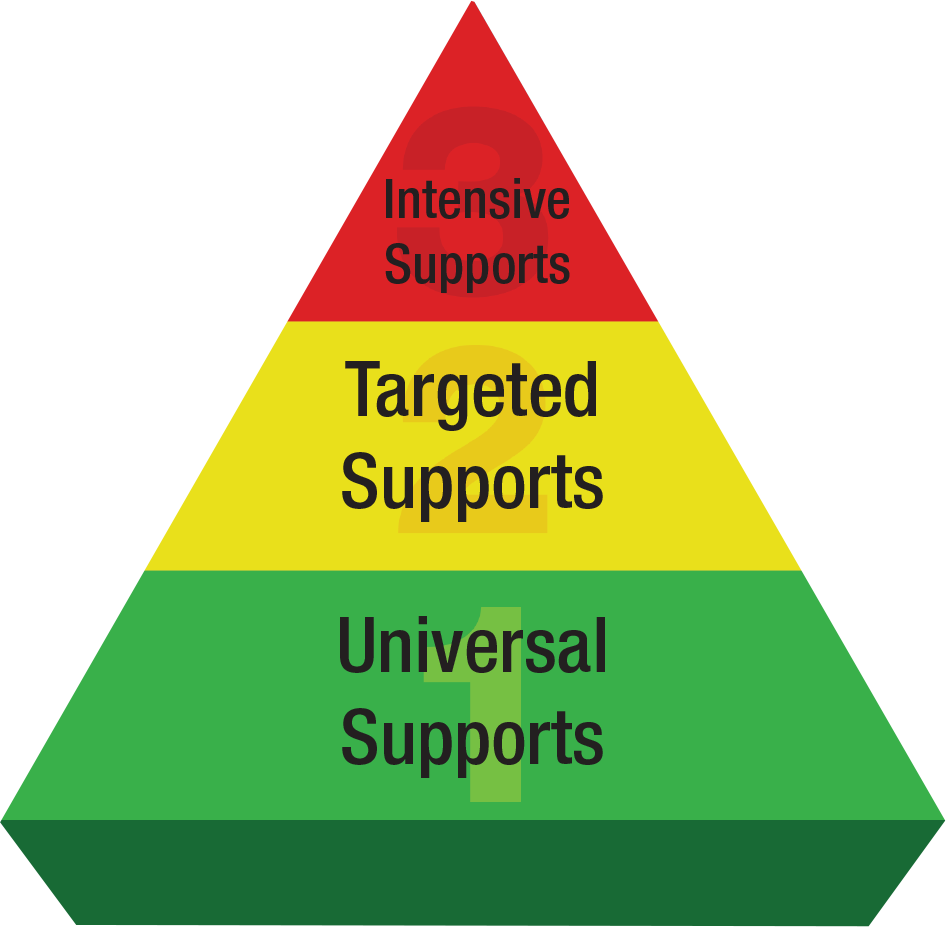 System-wide PBS is a multi-tiered approach to implementing PBS. This approach consists of three tiers of support. Tier 1 establishes supports for all clients receiving services such as setting clear expectations, tier 2 consists of targeted group interventions for those at risk of engaging in challenging behaviors and tier 3 consists of intensive individualized interventions such as behavior support plans. This model is proactive and aims to prevent the need for a behavior support plan through the use of universal and targeted supports.
Benefits
Individualized plan for your agency's unique needs, goals, and desired outcomes
Consistent expectations, training, and implementation of interventions throughout agency
Decisions that are based on data, not feelings
Decrease in challenging behaviors and the need for behavior support plans
Positive and proactive approach to decreasing challenging behaviors
Opportunity for collaboration between individuals within your agency
What Must I do?
Make implementing system-wide PBS an agency priority.
Assemble a PBS Leadership team to meet with WVU CED PBS staff regularly and drive the change.
Work with WVU CED PBS staff to develop an individualized agency plan of action and implementation strategies.
Collect and report data on your progress.
Complete an assessment of your agency's readiness to implement system-wide PBS.
What is Positive Behavior Support (PBS)?
Positive behavior support is a package of evidence-based strategies to improve quality of life and decrease challenging behaviors. It teaches people new skills and alternative responses to replace challenging behaviors. This approach is positive, proactive and focuses on preventing challenging behaviors before they occur.
Purpose of the PBS Program
The purpose of the PBS Program is to build workforce capacity to support individuals who have challenging behaviors. Intensive and collaborative work is completed with agencies who serve people with intellectual and developmental disabilities, traumatic brain injuries and other complex support needs to implement PBS system wide. Through a person-centered approach, supportive, motivating and inclusive environments for individuals with complex needs are promoted.
Overview of Program Activities
The following program activities can help you prevent and improve challenging behaviors:
System-Wide PBS
Intensive collaboration that includes training, technical assistance, and coaching
Establish and sustain three-tiered PBS approach
Technical assistance and mentoring
Guidance and feedback to professionals
Solutions for challenging behaviors
Person-centered planning
Develop personal goals
Create an action plan for achieving goals
Short-term individual assistance
Serve a very limited number of individuals and families statewide
Individuals must have dangerous behaviors and no services in place to address them
Training and continuing education opportunities
Limited number of trainings offered for professionals
Social work CEU's